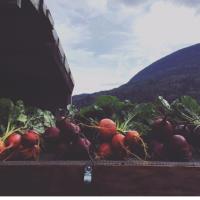 Sweet Earth Farms
Contact: Miranda Chiasson
Address: Yarrow Eco Village 4-42312 Yarrow Central Rd Yarrow, BC, V2R 5E2
Email Address: sweetearthinfo@gmail.com
Phone: 604-751-3451
About Us
Welcome to Sweet Earth Farms. We are a small scale, certified organic farm - growing good food for good people.

Located in the midst of the Fraser Valley, at the Yarrow EcoVillage, we've found sweet earth indeed. Our focus is on building a co-operative farm, with sustainable nurturance being an integral piece of each step.

The moments in between are our favourites. Bees on elderflowers, sprinklers in the evening sun, a big bin full of just harvested spinach, looking up from a bed of weeding and watching an eagle slowly slowly slowly gliding through the sky, opening the greenhouse at dawn, the smell of arugula and potatoes in the light.

We grow a wide variety of veggies, with a small dabbling in rhubarb and herbs. With thanks to our sweet earth, here's to community and good food.

Practices
At Sweet Earth Farms, we are proudly certified organic; holding our care of the soil to the utmost. We aim for sustainability at every level, caring for ourselves, our community and our food. We practice crop rotation, add generous amounts of local compost and manure, use as little fossil fuels as we can, and we cultivate with care. To good food for good people!