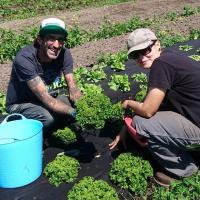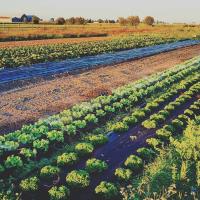 Ohana Farms
Contact: Daryl McBride, Executive Director
Address: 7234 Ladner Trunk Rd Delta, BC, V4K3N3
Email Address: darylmcbride@ohanafarms.ca
Phone: 778-302-8879
About Us
Aloha!

Hello (Aloha) from the newly formed Ohana Organic Farming Society of British Columbia!! The farm is in it's most simple terms an organic farm waiting on certification as we're in our first year currently however we are also a non profit society that is volunteer ran and 100% of the funds raised from sales go directly back into the society to promote organic farming, train new farmers and employ those who need it the most. The society started as a simple idea from the now President when returning from living in Hawaii at an organic farm to farm his own local organic produce. The "business" was initially being structured as a sole proprietorship and had very few goals outside of growing and selling the best quality organic produce possible and offering new and exciting varieties of such produce to local markets. While in its development the social and global politics couldn't be ignored. Fellow humans were and still are fleeing their homelands and coming to Canada at exceptionally high rates looking for a better life and the founder thought to himself maybe he can still have his little farm and help out a few fellow brothers and sisters in the process by growing into outreach and providing part time work to refugees and immigrants that really anyone can do?!.

Now Ohana Organic Farming Society had its first goal to reach for but before we could begin the society needed a name, something that would convey the love and respect we have for all of our fellow brothers and sisters and the land. "Ohana" in Hawaiian means Family in its basic translation, the deeper meaning of Ohana however is applied to an extended family or implies we are all family and also translates to "No one left behind". This is the main vision of Ohana Organic Farming Society, we will always try our hardest to help our family when we can and we will leave no one behind.

We're on our way! So now to growing crops and playing in the dirt… is what we thought. While researching what we wanted to grow, how we wanted to grow and all of those little variables that alone provide more than enough work for a regular business the President came across a documentary that really got him thinking. In this documentary and subsequent research we found out that only a surprising and miniscule 2% of the world's population actually know how to grow their own food source! So now we have goal 2, as the saying goes "give a person a fish and they'll eat for a day but teach them to fish and they'll never be hungry" and please differ to goal 1. We obviously can't live with ourselves as a Society dedicated to "no one left behind" if we don't also teach what we know to others and pass on the knowledge to "grow" self-sustainability in the new emerging organic urban farming community.

So we're helping refugees and the needy, we're training and educating the public and what happened to that simple pure Hawaiian vision of a small organic farm… Well we never lost it. Through hard work, donations, community bonds and other funding resources we were able to secure equipment and inventory, our first land lease at 3420 West River Road in Delta, British Columbia and we're on our way!! Moving forward the Ohana Organic Farming Society of British Columbia intends to grow and provide the public with the best local organic produce, train and employ applicants in accordance with our society's purposes and of course spread a lot of love and Aloha along the way!!

Please follow us on Instagram @ Ohanaorganicfarming and watch us grow :)

Thank you & Mahalo!
Daryl McBride
Executive Director.
Practices
Ohana Organic Farming Society of British Columbia practices only 100% organic growing methods and are currently working toward our Organic Certification for 2018. In addition to farming organic we strive to leave as little footprint on the land and earth as possible and always try to use the greenest methods of operating such as solar powered fans in our greenhouses, only earth friendly paper and planting products. We use no fertilizers or pesticides of any sort, hand raise each plant from seed in our two main nurseries and hand plant our fields. Aside from our delivery / farm truck and small garden tractor we try to be as green and environmentally friendly as possible in all our organic growing process!!