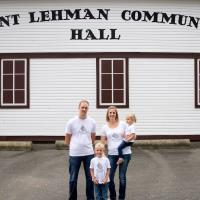 Mt Lehman Cheese Co
Contact: Jason Dykstra
Address: 30854 Olund Rd. Abbotsford, BC, V4X 1Z9
Email Address: jason@mtlehmancheese.ca
Phone: 604-854-6261
About Us
Mt Lehman Cheese Company creates local hand-made cheese
in small batches right here in Abbotsford. Incorporated in the
summer of 2013 by Cheese-maker Jason Dykstra and his wife
Dawn. Mt Lehman currently makes a wide variety of Goat and
Water-Buffalo cheese. The cheese includes: Fraser Valley
Goat Feta, Matsqui goat cheddar, Mt Lehman Tomme, Blue
Capri and Blue d`Buff, as well as Gozzarella, Dutchess, Frisky
and many more.
Practices
The recipes follow traditional methods aiming to use as few
ingredients as possible; you won't find any citric acid, calcium
chloride or added stabilizers in any of these products. Jason
enjoys seeing the cheese from start to finish; not only does he
make the cheese but he often demos the cheese at local stores
and events.